Sorry for the delay on the blog post with the Sun Run results. Been busy with work and had people over after the Sun Run itself, so I have been spending more time cleaning, eating, sleeping, and working and haven't had much time for blogging.
I asked you to assume that I would run it in 58 minutes. In fact, I did NOT run the 10 km in 58 minutes. Instead I did it in just over 55 minutes. I am incredibly pleased with my results. I didn't make my idealistic goal of 48 minutes, but I did get to my initial goal of running it in less than an hour.
Lance ran it in just under 1 h 3 minutes, beating his time from last year. Our friends Gareth and Debbie did pretty well . . . Gareth ran in just under 1 h 9 minutes and Debbie power-walked (bad knee) in about an hour and a half (I don't have the paper with the results in front of me, so I'm guessing).
My sister, mom and step-dad did awesome! I'm very proud of all of them. They walked it in under 2 hours. Kim came in a little bit faster than mom and Howie did.
Here is my last graph for the Sun Run.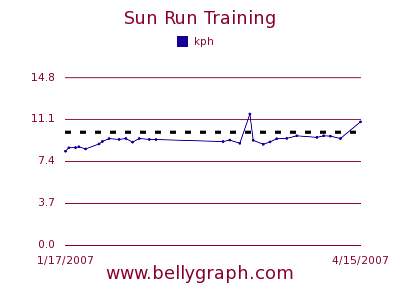 I've already found my next fitness challenge.  It's the
Women's Health Ultimate Fitness Plan '07
. It is designed to develop cardio, flexibility, strength, balance, and reflexes. I may graph the results from that as well. You test your progress every four weeks or so, which makes it very measurable.
The Sun Run was the first major
goal for 2007
that I've accomplished. The next one that I'm going to focus on is passing my CAIB 4 exam, which is scheduled for July. I'm actually going to try to study a bit for that tonight before bed.
Powered by ScribeFire.